The Health Department launched a new ad campaign today to encourage parents of adolescents to vaccinate their children against human papillomavirus (HPV). According to the Centers for Disease Control and Prevention, there are about 33,200 HPV-associated cancer cases in the United States each year. HPV vaccination can reduce a child's risk of certain HPV-related cancers by up to 99% and reduce the risk of genital warts that may result from HPV infection. The ads, both in English and Spanish, will run in subway cars for two months.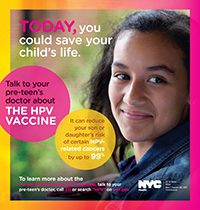 "Many of our younger New Yorkers have not been vaccinated against HPV, despite the vaccine's ability to prevent many types of cancer, including cervical cancer," said Health Commissioner Dr. Mary Bassett. "I encourage parents to use their child's back-to-school doctor's appointment as an opportunity to protect their children against HPV. Getting vaccinated today can prevent cancer down the road."
HPV is the most common sexually transmitted infection. About 79 million people have HPV infection, and nearly half of the 14 million new HPV infections each year occur among 15-24 year-olds. Since HPV infection early in life can lead to cancer many years later, vaccination in the preteen and early teen years is that much more important for prevention.
The HPV vaccine has been proven to effectively protect against precancerous changes in the cervix, anus, vulva, and vagina. Although more data is needed to demonstrate the effectiveness of the HPV vaccine in preventing oropharyngeal cancer, recent findings suggest the vaccine can help prevent this common HPV-associated cancer.
The HPV vaccine is recommended for boys and girls at 11-12 years of age, but the vaccine can be given to children as young as 9. The vaccine works best when it is given before any kind of sexual activity because the immune response to the vaccine is higher than among older teens and young adults. Girls and boys should receive three shots over approximately six months for full protection against the virus.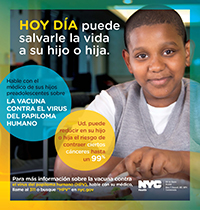 Teens ages 13-18, young adult females ages 19-26 and males ages 19-21 who have not previously received the HPV vaccine can still benefit from the vaccine and should get vaccinated.
In New York City, only 47% of boys aged 13-17 and 64% of girls aged 13-17 in have received at least one dose of the HPV vaccine. Just 40% of girls aged 13-17 and 22% of boys aged 13-17 in New York City have received the three doses of the vaccine that are recommended for full protection.
In comparison, 94% of 13-17 year-olds in New York City received the Tdap vaccine, which protects against tetanus, diphtheria and pertussis, and about 81% of 13-17 year-olds received vaccination against meningococcal disease.
HPV vaccination coverage varies greatly across New York City. In the South Bronx and Northern Manhattan, 45.5% to 60.2% of girls aged 13-17 and 15.7% to 26.1% of boys aged 13-17 received all three doses of the HPV vaccine, according to a 2012 analysis. Vaccination coverage is lowest in Staten Island, Central/Southern Brooklyn, and Greenpoint/Williamsburg, with just 5.8% to 25.1% of girls aged 13-17 and 0% to 5.9% of boys aged 13-17 in these areas receiving all three doses of the vaccine.
For more information, call 311 or search "HPV" at nyc.gov.