Bronx Borough President Ruben Diaz Jr. Endorses Eric Adams For Mayor
By Robert Press
On the very famous Fordham Road overpass of the Grand Concourse Bronx Borough President Ruben Diaz Jr. along with dozens of Bronxites voiced their support for Brooklyn Borough President Eric Adams for Mayor of New York City.
BP Diaz Jr.  told the story of when he was a young assemblyman from the South Bronx twenty-two years ago of a fatal shooting of a man in a hallway by police many times. He said it was Captain Adams who led 100 Black men to investigate the police shootings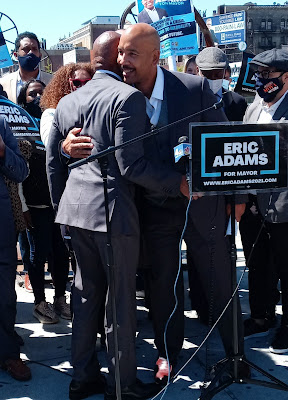 Bronx BP Diaz Jr. Hugs his good friend Eric Adam after introducing him.
Mayoral candidate Eric Adams explains there are some candidates who are pretenders, and then there are candidates such as himself who get things done.
I told candidate Adams that when I questioned candidate Andrew Yang on topics such as NYCHA and Homelessnes Yang's answer was that will be taken care of when he (Yang) becomes mayor. Candidate Adams called Andrew Yang one of the pretender candidates.