49th Precinct Community Comes out to Support Their Local Police Officers
By Robert Press
Members of the communities that the 49th Precinct covers came to the Precinct House to say Thank you, We support you, and We stand with you the officers of the 49th Precinct who serve and protect us. 
This rally to support the officers of the 49th Precinct was organized by the leaders of the 49th Precinct Council and Councilman Mark Gjonaj. 
49th Precinct Council President Joe Thompson (a former police officer) tells how things are different, and what police officers have to go through since he was on the police force.
Councilman Mark Gjonaj thanks the officers of the 49th Precinct for the great job they do keeping the citizens of the precinct safe. He added that if it isn't the mayor it's City Council, or the state legislature that makes a police officer's job harder every year with new laws that restrict what they can do to protect the public.
Deputy Inspector Natiw, the commanding officer of the 49th Precinct, was excited at the show of support for his police officers by the community they serve, and said that they do the best job possible that the city and state will allow them to do.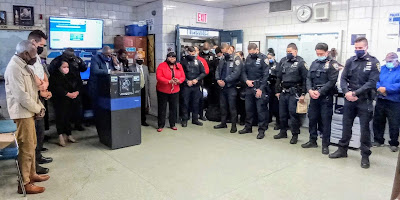 Pastor L. Gooding said the closing prayer so that the officers of the 49th Precinct go out and come back from their shifts safe, as they do every day they go out on patrol.
The 49th Precinct serves a northeastern portion of the Bronx including Allerton, Morris Park, Van Nest, Pelham Parkway, Eastchester Gardens, and Pelham Gardens.