Oswald Feliz Sworn in as New 15th Councilman
By Robert Press
Having been declared the winner of the March 23rd Special Election to replace now Congressman Ritchie Torres for the 15th council district in mid April, and having already been sworn in as the new councilman, it was time for a public swearing in.
Elected officials such as U.S. Senator Chuck Schumer, Congressman Adriano Espaillat, City Council Speaker Cory Johnson, City Council members Fernando Cabrera, Vanessa Gibson, and Ydanis Rodriguez, State Senator Luis Sepulveda, State Assembly members Nathalia Fernandez, Jose Rivera and Victor Pichardo, along with many other people were in attendance. The event was emceed by Ms. Rachel Miller-Bradshaw, and moved along smoothly. It was a picture perfect day, but new Councilman Oswald Feliz now has the June 22nd Democratic Primary to run in with many of the same candidates from the special election.
U.S. Senator Chuck Schumer was the first to speak, standing between Congressman Espaillat and new Councilman Oswald Feliz.
Congressman Adriano Espaillat congratulates his pupil on becoming the new Councilman for the 15th district, As City Council Speaker Cory Johnson listens.
Former 15th Councilman, now 15th Congressman Ritchie Torres points to City Council Speaker Cory Johnson as he says 'Mr. Speaker, Mr. Torres has gone to Washington'.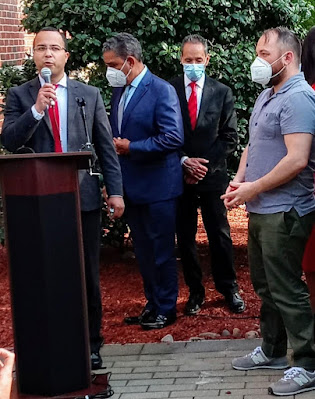 New 15th Councilman Oswald Feliz gets in a few words, and then it was on to be sworn in.
Judge Kim Adair Wilson has the honor of swearing in the newest member of the City Council, as his mother and his fiancee are on either side of the new councilman.