Mayor de Blasio Delivers Remarks at Destination Tomorrow's Pride Heritage Event
By Robert Press
Mayor Bill de Blasio attended the Destination Tomorrow event Tuesday June 29th not only to show his pride, but he had a job to do while he was there. The first lady Charlene  McCray spoke about her lesbian relationship upon coming to New York City, and the many deaths among the LGBT community at that time, when the community was shunned, and not accepted. She introduced her husband Mayor Bill de Blasio who said that New York City now has the largest LGBTQ community in the whole world.
Mayor de Blasio praised the Destination Tomorrow office on East 149th Street, and called up its Executive Director Sean Coleman to receive a Proclamation from him. The mayor read  proclaiming June 29th 2021 as Destination Tomorrow day in the City of New York. Mayor de Blasio also called up Junior LaBeija to receive a certificate of recognition for his work in the LGBTQ area. The mayor also recognized some former and future elected officials on hand. FormerCity Council Speaker Melisa Mark-Viverito, future city council members Althea Stevens and Marjorie Velazquez, and March 23rd special election winner in the 15th City Council District Oswald Feliz. There was entertainment for the Mayor and First Lady, along with many questions after the event was over.
First Lady Charlene McCray introduces her husband Mayor Bill de Blasio.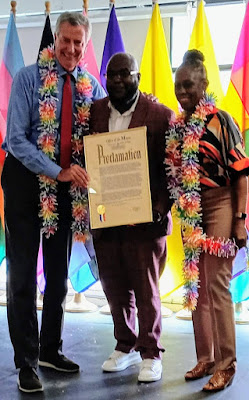 Mayor Bill de Blasio with Sean Coleman of Destination Tomorrow holding his proclamation given to him by the mayor, with First Lady Charlene McCray.
Presumed winner of the16th Council District Althea Stevens (white dress), Presumed winner of the 13th Council District Marjorie Velazquez (yellow), former City Council Speaker Melissa Mark-Viverito, and Elisa Crespo former 15th council candidate.
Councilman Oswald Feliz was sitting next to 14th Council District candidate Socrates Solano, but left for a more important meeting, before the mayor introduced him.