Morris Park Veterans Day Salute at Peace Plaza
By Robert Press
There was rain forecast which began falling lightly as the Peace Plaza Morris Park Veterans Day Salute began. Corporal Joseph Ronda, United States Marine Corps (USMC) emceed the event which began with the singing of God Bless America. Mr. Ronda then made a speech about those who passed away who helped make Peace Plaza a reminder of those who  fought for America, ending by reading a statement from President Woodrow Wilson after the signing of the armistice of 1919 which ended World War One.  
Veteran Gene De Francis was called up to speak, who said this is a proud day to be a veteran. He said that he was a radio technician who monitored enemy communications during the war he served in. Veteran Sammy Ravelo of the Dominican Veteran of America was next to speak. He thanked those who served in the military, and added it's up to everyone to support our veterans who gave us the freedom we have and enjoy. Rabbi Pewzner who gave the invocation was then called up to give the closing prayer. 
Joseph Ronda veteran of the USMC has taken over the duties of running the Peace Plaza Veterans and Memorial Day ceremonies from Silvio Mazzella a founder of the Morris Park Peace Plaza.
Veteran Sammy Ravelo reminds everyone why it is important to support the veterans who allow us the freedoms we have.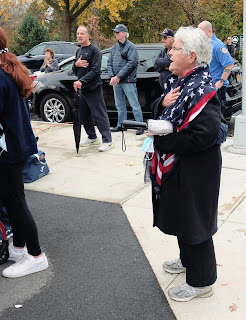 A very patriotic woman wears the American flag during the Veterans Day ceremony.