Bronx Fashion Week At Bay Plaza Celebrating Fifty Years of Hip Hop
By Robert Press
Saturday May 20th was Bronx Fashion Week at the Mall at Bay Plaza. Hazel McIntyre, Flora Montes, and super model Crystal Gomez brought fashions from stores in the Mall at Bay Plaza and outside designers that were worn on the runway by models young and older on the third floor. The Food Court was transformed into a fashion show complete with a DJ, professional runway and dozens of professional looking models. 
Thi fashion show was also a celebration of fifty years of Hip-Hop music. The mall at Bay plaza stores included J.C. Penny, Macy's, Windsor, Forever 21, and Xbelta. Designers from outside the mall were Risktaker and Seven Star Graphics. There were two also two dance performances during the show. 
The three women behind the Bronx Week Fashion Show at the Mall at Bay Plaza, (l – r) Hazel McIntyre, Flores Montes, and Crystal Gomez.
Fashion for all ages were on display from J.C. Penny.
For all sizes from Forever 21.
Men as well as Women from 
Risktaker
.
Elegance from Macy's.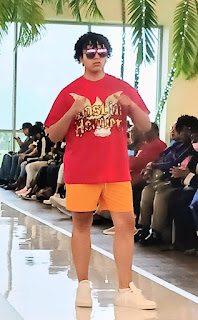 Graphic tee shirts from Seven Stars Graphics.