Easter Bunny and Food Giveaway by Councilman Mark Gjonaj.
By Robert Press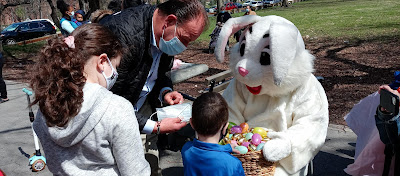 Councilman Mark Gjonaj brought the Easter Bunny visit Pelham Parkway South at Wallace Avenue this week. He also brought with him some gifts for the children, who picked out their favorite Easter Egg from the Easter Bunny's basket of eggs. 
That was not all, because after all the eggs were given to the children, it was time to give boxes of food to people during this pandemic and the food crisis that had developed. 
Councilman Gjonaj watches as an eighteen wheeler parked on the main road of the South side of Pelham Parkway to be unloaded for the food giveaway.
The pallets of boxed food were brought into the parkway island one by one.