Bronx Borough President Candidate Fernando Cabrera Meets 15th City Council Candidate Bernadette Ferrara
By Robert Press
Wednesday evening City Council District 15 candidate Bernadette Ferrera was hosting a fundraiser, when Bronx Borough President candidate Fernando Cabrera stopped in. This was not an endorsement, as is going around, but a meet and greet for the two candidates.
15th City Council candidate Ferrera gave a history of herself, a candidate from a family of immigrants, single mother with deep roots in her Bronx community, Founding member of the Van Nest Neighborhood Alliance being its President since 2015, member of Community Board 11 serving on various committees, and sit on the Morris Park Business Improvement District.
Bronx Borough President candidate then spoke saying it will take a strong Borough President such as himself to bring the Bronx back to Pre-Covid days. Cabrera went on to say how much better he is than the other candidates, and how he has done more for the Bronx. He rattled out several ideas he had for the future Bronx. Interestingly, Borough President candidate Cabrera was in no hurry to leave, as he spoke to everyone in the room who he met.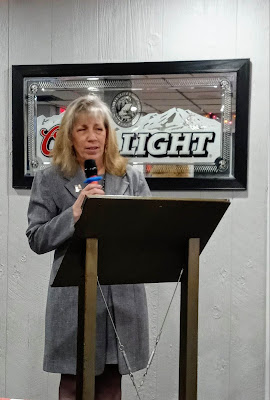 15th City Council candidate Bernadette Ferrara speaking.
Morris Park Community Association President Al D'Angelo was on hand, and posed with the two candidates.