MAYOR DE BLASIO DELIVERS REMARKS AT CURE VIOLENCE BASKETBALL TOURNAMENT
By Robert Press
Mayor Bill de Blasio during his City Hall in the Bronx Week stopped at the Belmont playground on East 182nd Street. to meet everyone who was there. Mayor de Blasio in his orange RTG T-shirt, and blue shorts entered the playground with Bronx Connect Director Tara Brown-Arnell. The mayor then greeted Councilman Feliz, and  they began a basketball shooting exhibition. Of course it was no match with the mayor putting in free throws, and the councilman missing lay up baskets.
Mayor de Blasio then addressed the crowd of young people. Thank you so much everyone. The work that Bronx Connect is doing is sacred to me, really sacred. Because it is about saving lives and protecting people. It's about community. It's about spreading love, not hate or violence. And Release the Grip is so important. It's an example to this whole city. What Release The Grip is doing, what RTG is doing, is going to show us a way forward. Because in the end, if you want safety, if you want peace, it has to come from the heart. Thank you for being here, we all know lots of things that we can do, the best thing we can do is help the community to achieve it's dreams and goals, to bring out the best in the people, to support the people. Because the solutions, the answers are at the community level, at the grassroots. Everyone here who is a violence interrupter, you are doing sacred work. You are doing brave work, let's thank all the violence interrupters, God bless every one of them.
You are brave. You are visionary, you are prophetic in what you're doing. Because you are showing that people can live a better way. You are stopping violence before it happens which saves lives. But everybody in RTG, everyone in Bronx Connect, we're giving hope – this is the part we got to remember, we give hope, particularly to our young people, when we show that the adults can solve the problems. When we show that peace works it helps young people find a peaceful, positive path. So today, we are on a beautiful basketball court, with people who care, who love the community, who are showing love for our young people. We do that enough times and the world changes. We see when things go wrong. We were together last week, we've seen the impact of gun violence. We know it is unacceptable. Our job is to cherish and protect every young person here because we believe in you. I want to say again, to all our young people, we believe in you, and your potential and your greatness, so we have to keep you alive.
When we are together like this, peace is winning. And hope is winning. Let's do more of this together. God bless you all.
 Mayor de Blasio addresses the crowd on the basketball court, with Councilman Oswald Feliz standing next to him.
It was easy for Mayor de Blasio to make free throw shots.
Mayor de Blasio, Councilman Feliz, and Bronx Connect Director Tara Brown-Arnell.
Everyone wanted their photo with the mayor.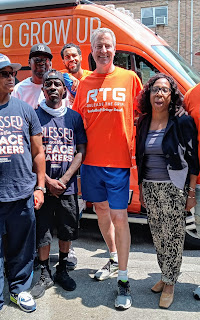 One final photo with the mayor was in front of the Bronx Connect Van and Director Tara Brown-Arnell before he left.