Bronx House Menorah Lighting
By Robert Press
It was a chilly Tuesday afternoon as the sun was about to set starting the second night of Chanukah. The giant Bronx House Menorah was to be lit in the street on the side of the building. Many people gathered including Bronx District Attorney Darcel Clark, State Senator Alessandra Biaggi, Assemblywoman Nathalia Fernandez, and Councilman Mark Gjonaj. 
After Rabbi Pewzner explained the history of Chanukah, each elected official was given a chance to speak, DA Clark said the light is to take away darkness, Assemblywoman Fernandez said that Chanukah is one of her favorite holidays, Councilman Gjonaj mentioned that this will be his last menorah lighting here as an elected official, and Senator Biaggi said she is anxious to hear the children from the afterschool program sing.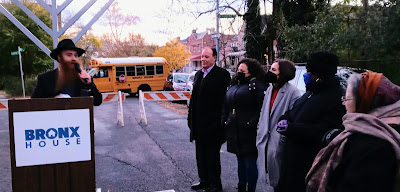 Rabbi Pewzner explains the history of Chanukah as the elected officials listen.
Rabbi Pewzner asked the elected officials to flip the switch on this electric menorah to light the middle light that is used to light the other lights on the menorah.
While it may seem that other lights are on, only the center light is lit.
Only the middle light, and the two lights on the right are lit for the second night of Chanukah, after Rabbi Pewzner said the Chanukah prayer.
The children who attend the Bronx House after school program sing some Chanukah songs such as Dreidle Dreidle.