Bronx NP Diaz Jr. Lights His Last Bronx Borough Christmas Tree as BP 
By Robert Press
It was a cool Thursday evening at Joyce Kilmer Park opposite the Bronx Courthouse, but it would be the last Christmas Tree there that current term-limited Bronx Borough President Ruben Diaz Jr. would light as the BP. A beautiful tree with over one thousand lights on it, but before there would be some entertainment thanks to LAX96.3 radio, and the NYPD La Jara band and singers. 
Lax96,3 gave out to one lucky young girl an autographed New York Giants football, and handed out dozens of Giants cups to members of the crowded audience inside the pen. Borough President Diaz Jr. came out to inform the crowd this is the last time he will be lighting the Bronx Christmas Tree as the Bronx Borough President due to term limits ending his twelve plus years as Bronx Borough President. Ruben Diaz Jr. was elected Bronx Borough President on April 21, 2009 in a special election to replace previous Bronx Borough President Carrion who took a position in the Obama Administration. 
The large crowd at Joyce Kilmer Park to see the lighting of the Bronx Christmas tree opposite the Bronx County Building.
Bronx Borough President Ruben Diaz Jr. waits as he watches an autographed Giants football given to one lucky young girl in the audience.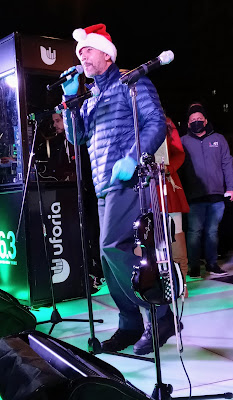 On stage Bronx BP Diaz Jr. opened with his, 'Is the Bronx in the House'?
NP Diaz Jr. explains why this is his last Bronx Christmas Tree lighting, because he is term-limited out of office on January 1, 2022.
The Choir from the Celia Cruz High School performed.
Also performing up to the countdown of the tree lighting were the NYPD La Jara, a sixteen member special unit of Latin musical police officers. Their mission is to bring unity through music. 
The Bronx Christmas Tree was light, and then it was off to Santa's Workshop.
Santa's Workshop on the Concourse.