Councilman Mark Gjonaj's NYCHA Toy Giveaway
By Robert Press
It was a mild Tuesday afternoon as everything was coming together for Councilman Mark Gjonaj's last event as a city councilman. This was a toy giveaway at the NYCHA Houses on Waring Avenue. Members of the 49th Precinct were on hand as the line was around the corner by three PM. Councilman Gjonaj and his staff members were caught in traffic, and other volunteers were waiting for the councilman to show up. 
Within minutes that yellow oversized van arrived with the famous "Because he cares, Councilman Mark Gjonaj" on it arrived. The back door opened and hundreds of toys were unloaded, with gloves, hats and two giant urns of hot water with boxes of cocoa mix for the children.
Then one of Councilman Gjonaj's staffers disappeared into the van, to come out a few minutes later as the Grinch who Stole Christmas. When the Grinch came out into the open, at first some of the children screamed, but then they wanted their picture taken with the Friendly Grinch. 
Hundreds of toys were set up on tables, one area for boys, one area for girls, and the third area with games and other toys that boys or girls could play with.
While the toys were being set up, Councilman Gjonaj went around to the children handing out candy canes, and face masks for the adults. 
One of Councilman Gjonaj's staffers dressed up as the Grinch who stole Christmas.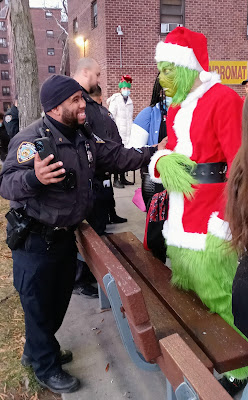 Some children were afraid of the Grinch, and this officer from the 49th Precinct was about to arrest him when the children said not to.
It seemed that many children wanted their picture taken with the Grinch.
Even Officer Fernandez wanted her picture with the Grinch.
The children would first be asked if they wanted hot cocoa, then move to the toy area to choose which of the toys on display they wanted. 
It was strange that the police officers were holding toys to give to the children, but the children would walk right by them, and take the same toy off one of the tables. The Children also received a pair of gloves and wool hat.