Bronx Day Parade. Food Festival, and Concert
By Robert Press
Sunday turned out to be the perfect day for a parade, food festival, and concert, to end Bronx Week. Bronx Borough President Vanessa Gibson was joined by Actress, Author, Keynote Speaker, and Bronx Born April Hernandez and her daughter Summer Rae. Deputy Bronx Borough President Janet Peguero arrived shortly after Assemblyman Dinowitz and Councilman Dinowitz departed. 
Hundreds of people marched across Mosholu Parkway. Schools, community organizations, supporting companies, elected officials, and local Community Board 7 members where the event was being held. On the other side of the parkway was the food festival with dozens of booths to get a variety of delicious food or beverages. There were activities for children which included a pony ride, games, and a Bouncy House. For adults there were many information tables from city agencies, and several health care providers with various gifts and services. Later on the Concert began. Bronx Week with all its events was very successful for a brand new Bronx Borough President who seemed to be in office for a while.
(R – L) Deputy Borough President  Janet Peguero, Bronx Borough President Vanessa Gibson, Actress April Hernandez, and Summer Rae Hernandez.
Assemblyman Jeffrey Dinowitz and his son Councilman Eric Dinowitz were on the stage with BP Gibson, as students from PS 8 in Bedford Park marched by.
Bronx District Attorney Darcel Clark marched across Mosholu Parkway.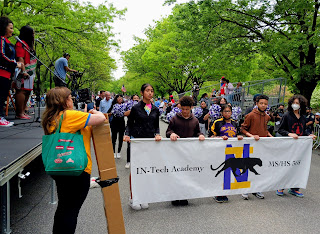 Students from IN-Tech Academy MS/HS 368 march as the Dinowitz's prepare to go to another event.
Members of the NYPD from the Bronx were among the marchers.
There were performances from some of the students.
Felipe shaves off some meat as he serves a customer at the food festival.
Then there was the Pina Colada booth, and dozens of other booths where almost anything made could be found.
There were amusements for the children.
Including pony rides.