Third Avenue BID Pride Event Commercial Not Community This Year
By Robert Press
Sunday's 3rd Avenue BID Bronx Pride Event was very different from the pre pandemic 2019 Bronx Pride Event. This year the event was one hundred percent commercial with three blocks of vendors who paid for their spaces. Gone were the Rainbow Crosswalk to welcome you to the event, the Bronx Pride Parade across East 149th Street, the stage with entertainment and speeches by elected officials, and the information tables with needed handouts and their much needed information to the community. 
In were commercial vendors who almost all, the day before were at the Fair in Westchester Square. The vendors had higher prices because they had to pay more for their spaces for the Bronx Pride event. A perfect example was the ears of cooked corn that were four dollars at Westchester Square, were five dollars at the Bronx Pride event. The only information table was by the CCRB that had forms for people to fill out to complain about the NYPD. The reason no other NYC agency was there as compared to the last Bronx Pride event, according to the person at the CCRB table was that the CCRB paid fifty dollars for the space. Other vendors paid up to $125,00 for non food, and up to $500,00 for food or business companies. 
We were unable to speak with Michael Brady, the Executive Director of the 3rd Avenue BID because of the Juneteenth holiday, but we suggest that he return to past Bronx Pride events with the information tables the BID had at the 2019 event. If you must have vendors, keep it to a minimum so those attending the Bronx Pride event will buy their food and other items from the stores on Third Avenue.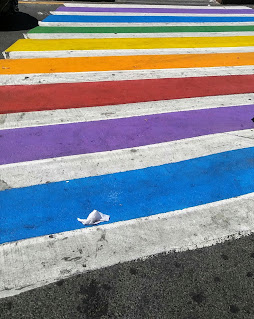 This was the 2019 Rainbow Crosswalk that was missing in 2022, as was the Bronx Pride Parade across East 149th Street.
Also gone were the many information and community booths, being replaced by vendors who paid big bucks for their spaces.
Above and Below were blocks of vendors, from a commercial promoter.
Amaurys Grullon of Bronx Native located at 127 Lincoln Avenue was unhappy at the event that he thought would be more community driven like in the past Bronx Pride events. He left midway through the event.
Cheerleaders from Cheer New York located at the Chelsea Piers in Manhattan performed in the street since there was no stage.
The CCRB booth to file complaints against police officers, paid fifty dollars for the space according to the man running the booth.
The most popular spot on Third Avenue other than the Mister Softee truck, had to be the Romantic Depot booth.