Westchester Square Three King Celebration
By Robert Press
Owen Dolan Park in Westchester Square was turned into a winter wonderland for skating on a hard plastic surface, and Three Kings Day where Gaspar, Melchior, and Balthasar (or three men dressed as the Three Kings) handed out over one-hundred neatly wrapped toys to children.   
On hand for the Westchester Square Business Improvement District was the Executive Director Yasmin Cruz, and Councilwoman Marjorie Velazquez who dropped in for a few photo ops. After the councilwoman left and all the gifts were handed out by the Three Kings the NYPD La Jara Band performed on the stage.
Here you can see the hard plastic tiles that were set up for children to Ice Skate on, as all the gifts to be handed out by the Three Kings are on or in front of the stage as one of the Three Kings can be seen to the left of the stage.
The Three Kings began handing out the toys and posing for photos with the children.
Councilwoman Marjorie Velazquez (L) with Westchester Square BID Executive Director Yasmin Cruz.
Councilwoman Velazquez poses with the Three Kings.
The councilwoman would also posed with the Three Kings as they handed out gifts to the children.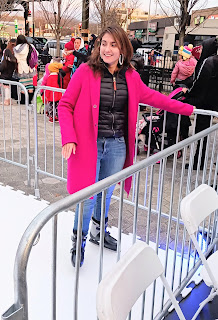 Councilwoman Velazquez would also put on a pair of ice skates, take a few steps on the plastic Ice, and then disappear.
The NYPD La Jara Band would perform when the Three Kings gave out gifts to all the children who were on line.