Throggs Neck St. Patrick's Day Parade
By Robert Press
It was a brisk afternoon for the Throggs Neck St. Patrick's Day Parade that traveled across East Tremont Avenue through Throggs Neck. The grand Marshals for the 2023 Throggs Neck Parade were Ms. Lois Harr and Mr. Roger Slattery. The parade route had a large Green Shamrock painted in the middle of the street in front of the Wicked Wolf Tavern where most of the people were stationed to view the parade. 
The NYPD had a bomb sniffing dog check the area before the parade.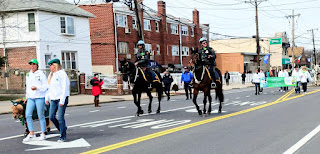 Police horses led the 2023 Throggs Neck St. Patrick's Day Parade.
The Bronx County Board Ancient Order of Hibernians in America are followed by the first group of Bagpipers.
Bronx District Attorney Darcel Clark. Assemblyman Michael Benedetto and State Senator Nathalia Fernandez also marched in the parade.
Unions such as Laborers Local 79 here, were joined by the Steamfitters Union, and Plumbers Local 1 who also marched. 
Many schools such as Cardinal Spellman High School marched.
The 

IrishFree

 School of Irish Dancing stepped their way across the Shamrock on East Tremont Avenue