Allerton Homeowners Association Meeting 
By Robert Press
The Allerton Homeowners Association met for the first time in several months at the Grace Lutheran Church on Eastchester Road. While only about  fifty people were expected double the amount showed up for a standing room only community room to see guests 49th Precinct Captain Gareth Kentish and Bronx Borough President Vanessa L. Gibson. 
Allerton Homeowners President Sal Castorina welcomed everyone and apologized for not have a meeting in several months. Before introducing Captain Kentish Ms. Rosemarie Baranin spoke on Safety and Quality of Life issues which Captain Kentish addressed. He said that  the association is in Sector C which the west side of the sector has more calls than the east side so he has to deploy more officers to the east side of the sector. He also described how calls are prioritized, and how the precinct is doing the job with less officers due to retirements and fewer new police offices.
Borough President Vanessa Gibson was introduced next, and she said that she has brought people from the her Ombudsman Unit that assists constituents on various matters of concerns to residents of the borough. She added by going over many of the other units of her office. She ended by saying that it is currently the state budget season, and that the city budget is due by July first when the new fiscal year for the city begins. 
Allerton Homeowners Association President Sal Castorina opens the meeting.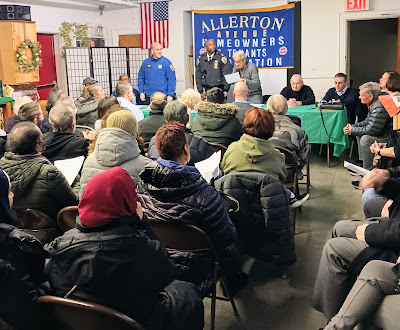 President Castorina addresses a few questions to 49th Precinct Captain Kentish who has Community Affairs Officer James Graham with him.