Mayor Adams Visits Bronx Government Hiring Hall
By Robert Press
Saturday April 22nd was the Bronx Government Hiring Hall at Monroe College on Jerome Avenue. Hundreds of people came to find out or apply for one of the many open New York City jobs with many of the city agencies. Representatives of the Buildings Department, Department of Environmental Protection, NYCHA, NYPD, ACS, Community Affairs Unit, Health & Hospitals Corporation, Mayor's Office for People with Disabilities, Department of Probation, and others were on hand to help people fill out applications and even interview some of them. 
Mayor Adams was scheduled to arrive at 2 PM, but arrived around 2:30 PM. Congressman Adriano Espaillat left after waiting over twenty minutes for the mayor. Mayor Adams when he arrived met with a few of his commissioners who were on hand and staff from Monroe College before entering the Hiring Hall. Immediately people were drawn to Mayor Adams requesting photos with him. 
Mayor Adams would make his way to the podium where he would say New York City is hiring, and this is proof of it. He said "We have many jobs that are available with the various city agencies that are here to interview you". He added that these are good paying jobs with good benefits. Mayor Adams would then walk to a few tables to talk with those behind the tables and people in front of the tables, again posing for photos with some of the people on line. 
Mayor Adams would leave and get into his car to go to the next event, but his car would get stuck in traffic on Jerome Avenue as two blocks ahead of his car a  delivery person who may have been weaving between traffic as others were had been hit by a driver. Several police cars and an ambulance had closed the street in front of the mayor. Since the driver that hit the delivery person did not stop several police cars began a chase whereas the road was opened as the  ambulance went on its way to the hospital and the mayor was off to his next stop. 
This sign was on Monroe College to inform people of the NYC Government Hiring Hall.
Mayor Adams entered Minsk Auditorium where the NYC Hiring Hall event was taking place.
Mayor Adams stopped to take this photo with Sirio Guerinos of Norwood Against Graffiti.
Mayor Adam addressed those in the auditorium, as two city employees who were doing interviews, turned around to listen to their boss, Mayor Eric Adams.
After speaking Mayor Adams would take some more photos with the people before moving on to his next stop.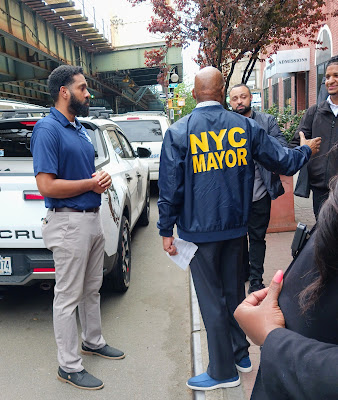 Mayor Adams says good-bye before entering his car.
As Mayor Adams enters his car, police cars are rushing ahead of him to an accident scene.