Second Annual Riverdale Pride Event At the Riverdale Neighborhood House
By Robert Press
It was the Second Annual Riverdale Pride at the Riverdale Neighborhood House which was attended by hundreds of people and elected officials Bronx Borough President Vanessa L. Gibson, City Councilman Eric Dinowitz, and Assemblyman Jeffrey Dinowitz. Performers included the Famous Kelly KaBoom Alexus Lewinsky, Alexa Dumont, and Jahiyrah McQueen, Laura Levine-Pinedo, and others. There was a Drag Queen Hour Storybook reading, and even a pride dog show. 
Tables were set up in the Riverdale Neighborhood front, back and side yards with various gifts to buy, free information, and games to play. The two local Democratic clubs were well represented as three of the four party positions are controlled by the Unity Democratic Club, while the assembly, city council, and fourth party position seats are controlled by the Ben Franklin Democratic club.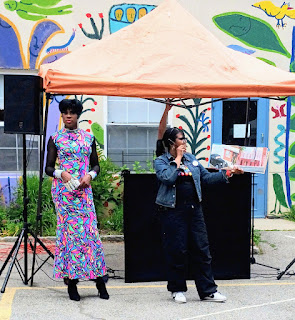 During Drag Queen Hour, the Storybook was about the Stonewall Uprising, and the problems that went along with the years of trying to be accepted in Greenwich Village.
Laura Levine-Pinedo sings as she sees someone in the same outfit as hers, but Laura didn't have the matching hair.
Alexus Lewinsky and Alexa Dumont posed for this photo with another attendee.