Assemblyman John Zaccaro's Family Fun Day on Williamsbridge Road
By Robert Press
The weather was beautiful Saturday for the Assemblyman John Zaccaro's Official Grand Opening of his 80th Assembly District office at 2018 Williamsbridge Road, and Family Fun Day on Williamsbridge Road. The Bx8 bus which runs on Williamsbridge Road had to be rerouted as the street was closed  between Neil and Lydig Avenues. 
Hundreds of people enjoyed various inflatable rides or games that were provided by FPJ Amusements, hamburgers and hot dogs were cooked, and there was even free popcorn and cotton candy for all to enjoy. Many community and informative tables were set up in the street, local elected officials, a local fire engine was on site for people and children to look at, even a police horse stopped by to see how everything was going, as there was dancing in the street in front of Assemblyman John Zaccaro's Assembly office. 
Williamsbridge Road was closed between Neil and Lydig Avenues Saturday Afternoon for Assemblyman John Zaccaro's Family Fun Day, as there was dancing in the street.
(L-R) State Senator Nathalia Fernandez, Assemblyman John Zaccaro, Councilwoman Marjorie Velazquez, Community Board 11 member Christine Culpepper De Ruiz, and Cynthia Rodriguez. 
Community organizations included the Bronx Park East Community Association, Pelham Parkway Neighborhood Association, and the Morris Park Community Association.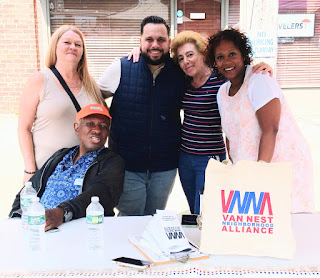 Assemblyman Zaccaro stopped by the VNNA table with Marion Manfredi, Brian Adams, Virginia Torelli, and Interim President Sharlene Jackson-Mendez.