Councilman Salamanca Hands out over 500 Book Bags and Boxes of School Supplies
By Robert Press
The line went up Southern Boulevard along Councilman Rafael Salamanca's office for his annual Book Bag and School Supply Giveaway. Over five-hundred book bags and boxes of supplies were given out to students. Bags of food from the New York Common Pantry went to their parents. The NYPD had its Rock Climbing Wall, representatives of Public Advocate Jumaane Williams, State Senator Luis Sepulveda, and Assemblyman Kenny Burgos, with Community Leader Freddy Perez Jr. who provided the bouncy houses, and several local non-profits and community organizations were also on hand in the courtyard outside the councilman's office. 
The crowd of people went way up the block from Councilman Salamanca's office.
Councilman Salamanca hands each child a box of school supplies then they would go outside to pick up their book bag, and their parents would get a bag of groceries and fruit.
Councilman Salamanca opens the box of school supplies to show this girl what is inside as a staffer refills the table with boxes of school supplies.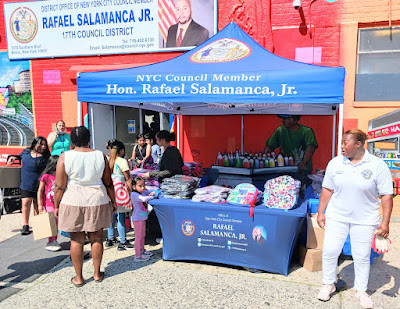 As the children exited the office the book bags were lined up on a table for them to pick which one they wanted.
After picking out a book bag the parents were given a bag of groceries.
The Police Department Rock Climbing Wall as demonstrated by this brave officer.
Various community group gave out information or gifts to those who stopped by.
Assemblyman Kenny Burgos and State Senator Luis Sepulveda had tables with information next to the senators table was the Public Advocate's table.