Mayor Eric Adams Visits PS 121 in Allerton Bronx on the First Day of School
By Robert Press
The final day of the September heat wave with the temperature reaching ninety-three degrees was also the first day of school for almost one million public school children. Mayor Eric Adams came to PS 121 in the Allerton section of the Bronx to welcome returning students and to meet new children to the school. An estimated twenty thousand new migrant children are beginning their first year in New York City public schools after five years of a declining public school enrollment. 
With Mayor Adams was Schools Chancellor David Banks and United Federation of Teachers union Michael Mulgrew, who met Bronx Borough President Vanessa Gibson, State Senator Jamaal Bailey, Assemblyman Michael Benedetto, and Councilwoman Marjorie Velazquez. While PS 121 is in Assemblyman John Zaccaro Jr.'s district, the good father was taking his three children to their two different schools. 
After the children who had gathered in the school yard went inside the school building the mayor, chancellor, and elected officials gathered in front of the mini-school in the lower school yard for speeches and announcements. PS 121 Principal Jared Kreiner who is entering his fifth year as principal of PS 121 aid he was thrilled to have the mayor, chancellor and all the elected officials at his school. Principal Kreiner then introduced an outstanding fifth grader Chole President who he said has wishes of going to Howard University. 
 The fifth grader told of what he likes at PS 121, and then introduced Mayor Eric Adams. Mayor Adam recalled his first day of school in Queens, an how he cried leaving his mother until a third grade girl took his hand and said "It's going to be all right.". Chancellor David Banks spoke about the influx of migrant students into the public school system saying, "We don't treat people as outsiders. We welcome them with open arms." 
The school yard of PS 121 where children, their parents, and school staff lined up before Mayor Adams arrived.
Mayor Adams arrived to cameras and reporters before saying hello to several children.
Mayor Adams poses with this PS 121 student as her mom and others take the photo.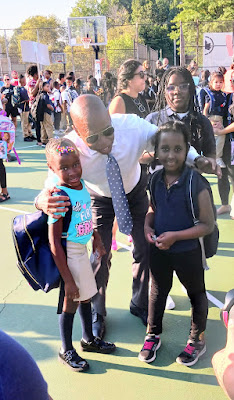 As the temperature rose Mayor Adams take off his jacket as he takes a photo with these two students.
PS 121 Principal Jared Kreiner introduced everyone up front, and fifth grader Chole President (far right).