Pelham Parkway Neighborhood Association meeting Tuesday September 12th
It was the day after the twenty-second anniversary of the World Trade Center attack, and the PPNA had their monthly meeting. In attendance were Transit Division 12 Captain Ashraf, Transit Police Community Affairs officer Cepeda Chavez, and two Transit Police officers. Also at the meeting were 49th Precinct Crime Prevention Officer Mederos and Assemblyman John Zaccaro Jr.
Captain Ashraf gave a description of what his officers do on train platforms and inside the trains. He said that in the 49th Precinct he is responsible for the #2, #5, and #6 trains with six platforms. Transit Division 12 is located on Morris Park Avenue at East 180th Street just below the subway station.
Officer Mederos filled in for the vacationing Deputy Inspector Kentish, and former Executive Officer Bautista who retired the day before the meeting. Officer Mederos told of the rising number of car thefts in the 49th Precinct, not to leave your cars running to go into a store to get something, and that if you own a Kia or Hyundia there is a factory recall to fix a problem that allows for turning on the motor without a key. He also mentioned that teams of riders on motorized bikes or scooters are snatching chains from people as they ride close by the victim.
Assemblyman Zaccaro Jr. spoke about what he plans to do when the assembly session begins after the new year, and he took questions which included locations of graffiti and other quality of life issues. He gave out the phone number to his office and said that people should let his office know of any new problems that come up.
Transit Police Captain Ashraf speaking, with officers of the PPNA seated and transit police officers behind standing.
Crime Prevention Officer Mederos speaks for the 49th Precinct with Captain Kentish on vacation and Captain Bautista having retired the day before the meeting.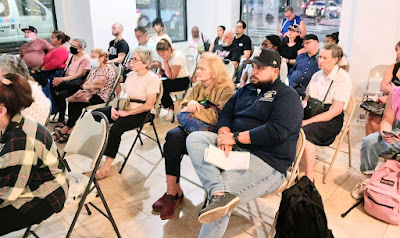 A photo of the large crowd at the PPNA meeting which included Assemblyman John Zaccaro Jr. before he spoke.